On 16 and 17 October, at the University of Naples Federico II, the first event entirely dedicated to the dataspace project will take place: a virtual marketplace in which you can exploit the potential and value of data, exchange and share information safely and revolutionize your business.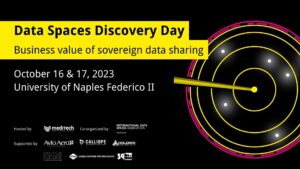 Thanks to the energy of IDSA and MediTech, organizers of the two days, we will have the opportunity to delve deeper into how data spaces fuel innovation and make their way into digital transformation, study concrete application cases, learn from experts and industry representatives, and how to follow new data-driven business models , streamline company activities and facilitate strategic partnerships.
Holonix, as a sponsor of the event, will contribute with the participation of our CEO Jacopo Cassina, which, together with Avio Aero and UCIMU, will bring to attention some success stories; not only that, there will be interventions in which we will talk about the partnership with SQS and the impact that data sharing has on the economic and social challenges of companies around the world.
Two days to delve deeper into the most salient aspects of this new topic, expand your network of contacts and experience first-hand the value of data, especially if shared securely within a dataspace!
For all the information and the agenda of the days, click here
To participate in the event, register on this page: event registration