On June 20th at 2.00 pm we are waiting for you online at the presentation of the AI ​​solutions for manufacturing industries that have been integrated into the KITT4SME platform to date.
A significant moment, the result of the commitment that the project partners put into promoting innovation and collaboration within the community of artificial intelligence developers for the manufacturing industry.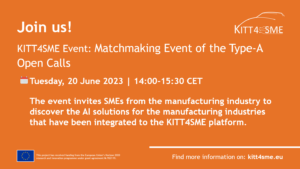 The KITT4SME project, of which Holonix is ​​a partner, aims to enhance the use of new technologies within manufacturing SMEs, providing them with customized and ready-to-use hardware, software and kits, collaborating with them to integrate the artificial intelligence in production systems.
Through a first round of Open Calls, we were able to finance SMEs and mid-caps in the development of specific AI solutions for production which, within our platform, add value to existing ones and facilitate their registration on the market RAMP. After a rigorous selection process, we chose 10 participants who have been actively involved in the project over the past 12 months, thereby gaining access to invaluable technical know-how and creating compelling 'success stories' for their innovative solutions.
We invite you to join us on 20 June from 14.00 to 15.30 CET online via the Zoom platform to learn more about the progress achieved in the KITT4SME project. During the event, you will have the opportunity to listen to the participants of the open call who will show their solutions and the results achieved. In addition, there will be designated working groups, which will provide you with a platform for direct interaction from stakeholders to ask questions and explore potential collaborations.
To know more: https://kitt4sme.eu/awarded-proposals-of-type-a-first-open-call/